BEST AMERICAN ROOTS PERFORMANCE
THE STORY BEHIND 'STAR SEEDS'
This song was inspired by the experiences of one man's life. 
His sense of not feeling understood and accepted as an artistic intuitive, led to a period of depression and addiction, until he discovered his soul healing through a path of spirituality. This inspiring journey to wholeness ignited his desire to help and nurture others to realize their full potential. It is my hope that this song of heartfelt collaboration will touch those who feel a connection to this real life story, and bring hope, healing and a knowing that they are not alone.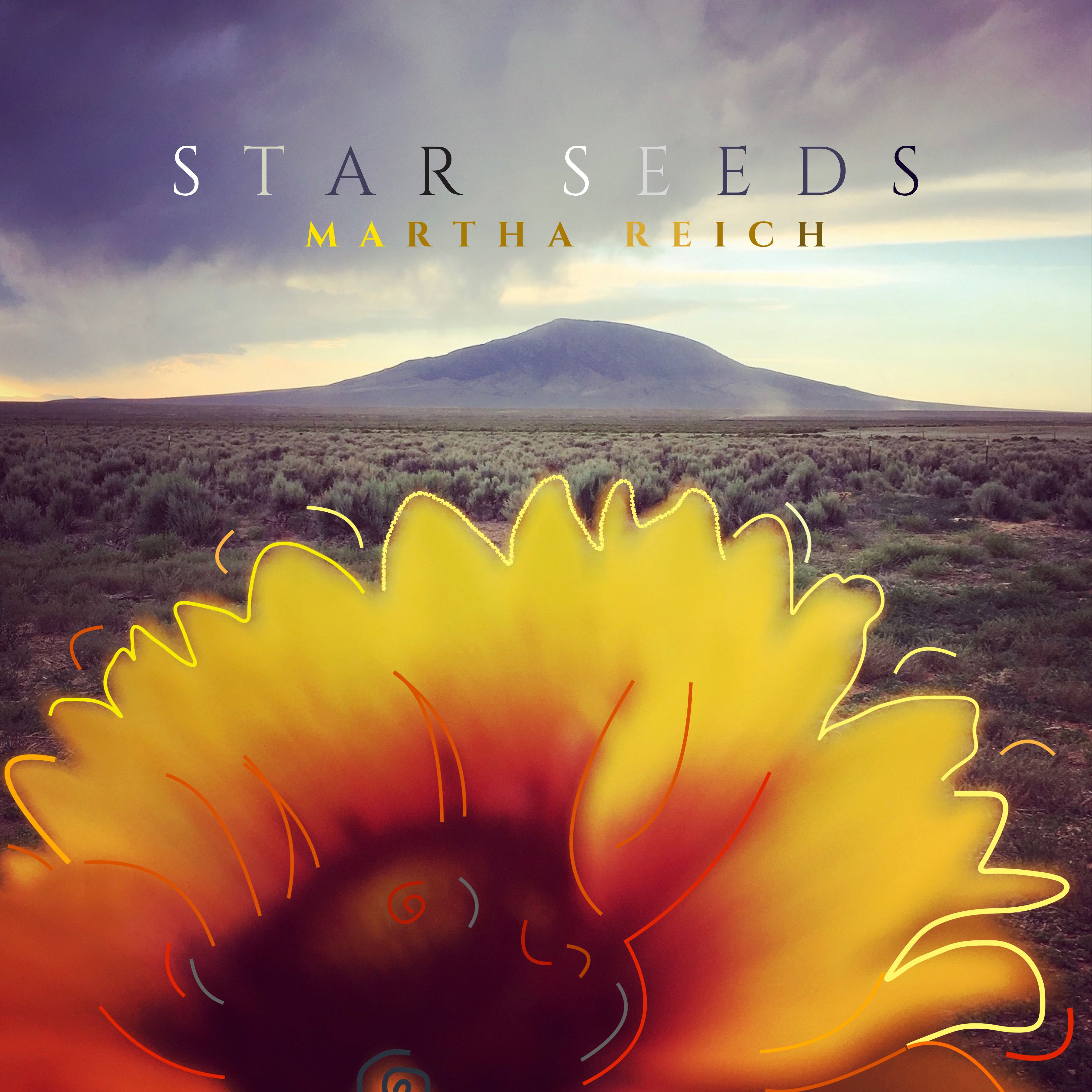 CREDITS
Martha Reich; Vocals, Lead Electric Guitar, Music & Lyrics 
Michael Kott; Cello 
Alicia Ultan; Viola 
Larry Mitchell; Electric Guitar, Bass & Piano 
Jason Reed; Mixing & Engineering, Frogville Studios 
Martha Reich; Recording & Production, Moon Bird Studios 
David Glasser; Mastering, Airshow Mastering 
Kimberly Michelle Bond; Contributing Writer, Lyrics 
Taylor Bond; Song Concept
(c) 2021 ASCAP  GrindEthos Records
LYRICS ~ STAR SEEDS
I'm addicted to love and lust 
soothe my dreams with magic and dust 
and all that sparkles in the sky 
It took me awhile, to love my sweet child 
but now that I do, she's my indigo blue 
And I say deep in your soul 
you're perfectly whole 
as beautiful as a tree 
And I hear him playing my songs 
telling us all along 
you and I are just, just star seeds 
And we were born pure 
we were born pretty flowers 
we were born to fly to the sun 
and find our magic hour 
Yes I knew how to run 
and I knew how to hide 
shoot myself in the arm 
hurt so bad I wish I could die 
And now I just want to win 
this war with the blues 
cause I've been there before 
and this time, please don't let me lose 
Cause I'll plant trees in the woods 
past the rocks and the streams 
climb desert mountains 
follow moon dreams 
Just let me thank her 
for all that's she's done 
I think she'd be proud of me 
look how far that I've come 
Don't know how she saw me 
pull me up from the crowd 
Don't know she heard me 
guess I was crying, crying out loud 
I'll grow trees in the sand 
and pretty flowers wherever I am 
to show you how I love you 
the best that I can 
show you how I love you, 
best that I can
STAR SEEDS ~ AWARDS and NOMINATIONS
2022 Global Music Awards, two time Silver Medal Winner for Female Vocalist and Lyrics/Songwriter. 
2022 Indie Music Channel Awards, Winner for Best Folk Song.
2022 New Mexico Music Awards Nominee, for Best Song in the Singer Songwriter Category. 
2022 Josie Music Award Nominee for Best Folk/Americana Single.
WHAT PEOPLE ARE SAYING... 
"With a sound almost woven out of the earth, Reich sings from the brittle openings of the heart. To take in the art that comes from such a place opens up our lives in ways that are impossible to measure but so important to hold onto." - James Diaz, Anti-Heroin Chic Magazine. 
"Reich's appeal comes through her vocals and lyrics, she seems to be a writer talking to us all about this life we are in."  -Victory Music Review
Her deep roots in traditional folk and story-telling shine through each and every one of her original works. Ira Gordon—Host of Santa Fe's KBAC radio—calls Martha "the closest thing to Joni Mitchell that Santa Fe has."  
"I can wear your voice like a favorite cotton T-shirt, and your words as welcome as the rain". ~ Dennis Cicak, Musician
Each song, a story. Each story, poetry. - Barbara Salvatore, Author, Artist  
Big Horse Woman and Magghie
ABOUT MARTHA REICH 
Martha Reich is an award winning singer-songwriter and multi-instrumentalist. She has released five CDs, including 'BRAVE BIRD' which was described as "Stunning and Heartbreaking" by Americana Highways and earned her a Gold Medal for Female Vocalist in the 2018 Global Music Awards, as well as the LA Critics Award for Best Folk Artist. Reich was awarded three Indie Music Channel Awards in 2020, the 2019 New Mexico Music Award for Best Singer-Songwriter Song 'FADE AWAY' and Clouzine International Music Awards, for Best Indie Album 'BRAVE BIRD', and Best Acoustic Folk Song for 'THE LETTERS'.

Reich has performed around the world and shared stages with Melissa Crabtree, Consuelo Luz, Reverend Horton Heat and others, as well as opening for Kate Macleod and performing at the Sundance Film Festival. She is also a Certified Music Practitioner, playing for patients one on one by their bedside. Often compared to Joni Mitchell and Joan Baez, Reich is deeply inspired by nature and her unique style features an honesty and vulnerability that evokes "a sound almost woven out of the earth."
* If you wish to opt out of correspondence please let me know at: marthareichmusic@gmail.com
STAR SEEDS ONE SHEET
LINKS TO LISTEN, DOWNLOADABLE WAV FILES, SONG CREDITS AND THE STORY BEHIND THE SONG
688 KB